About Us…
About David Goddard:
David Goddard is an esteemed Lineage Holder of the Western Tradition.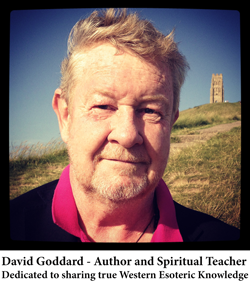 David Goddard is a teacher of the mystical sciences for the past 20 years. As an initiate and recognized teacher, he has committed his life to instructing and sharing the ancient technology of transformation – which gives knowledge, wisdom, happiness and joy. In the West, Alchemy, Qabalah and Theurgy are the basis for this technology.
David shows thousands of seekers and students how to apply the practical mystical technologies – the ways to be happier, more fulfilled and joyous.
David gently guides seekers and practitioners through their journey into the NOW. The NOW is cosmic consciousness – wherein we discover our own limitlessness.
David helps you to achieve this state and move beyond self-defeating limitations and shows you how to live your life – filled with Love, grace, ease and lightness.
David has written a number of books on esoteric subjects, which have been translated into several languages. These include: The Sacred Magic of the Angels; Tree of Sapphires; The Tower of Alchemy and Dragon-treasure of Hermes.
He is the Spiritual Director of The Pharos, an international esoteric School. David is invited to teach around the world, frequently giving workshops in Europe, USA and South Africa.
In the Spring 2005, David co-founded the Rising Phoenix Foundation – a foundation dedicated to sharing Western Spirituality to help facilitate a spiritual renaissance in the First World consciousness.
All of David's classes, workshops and residential retreats, combine teaching and practice, so that the participants can have their own experience of the higher states and worlds. David often teaches groups drawn from various traditions, to make real the essential unity of all spiritual paths; and to awaken the individual's compassion and bliss.
The Rising Phoenix Foundation with David Goddard site is here: www.Rpxf.org